Brief History of K.S. Wood Products Inc.
K.S. Wood Products Inc. is a family owned and operated business founded in 1992. K.S. Wood Products specializes in commercial casework and fixtures for all types of hospital, educational, office and retail projects. Our design staff uses the latest software technology and equipment to produce high quality products, keep projects on schedule, and stay competitive in today's market. K.S. Wood Products staff has many years experience dealing with architects, owners, and contractors. Our skilled craftsmen work with all types of materials including wood, laminate, solid surface, metal, and finishing. Our current production facility occupies 26,116 square feet in Springfield, Missouri.
Minority Owned & Operated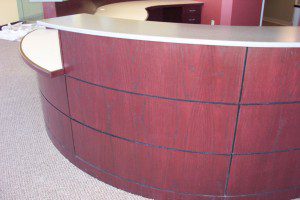 K.S.Wood Products is a minority owned & operated business and is certified a WBE (woman-owned business enterprise).
Employees
K.S.Wood Products continued success is greatly due to its experienced and committed staff. We take pride in our workmanship and ability to meet the customers needs.
Insurance
K.S.Wood Products carries all required workman's comp, liability insurance.